Glen Acres Neighborhood - West Chester, PA
Posted by Rob Lawrence on Thursday, February 24, 2022 at 2:54 PM
By Rob Lawrence / February 24, 2022
Comment
Glen Acres is a great neighborhood located in West Chester, PA. This 360 tour can be viewed in a headset or just on your phone or PC. Be sure to look around to see everything!
Rob Lawrence lives right down the street from Glen Acres and makes 360 video tours of neighborhoods in the area.
Above is our tour of Glen Acres in West Chester, Pennsylvania as part of our neighborhood series tour. Feel free to watch the video and drag your mouse to look around on your computer or mobile device.
One of the many entrances into the neighborhood is located right off of route 3. As you enter the community, you can see the Glen Acre Elementary School that's actually located inside the neighborhood so that is very conveinient if you have children. The other neat thing is that Fugett Middle School and West Chester East High School are basically right across the street about a mile down the road. You have very easy access to these schools which are the top in the area. If you are curious about the education, you can check out greatschools.org for the ratings.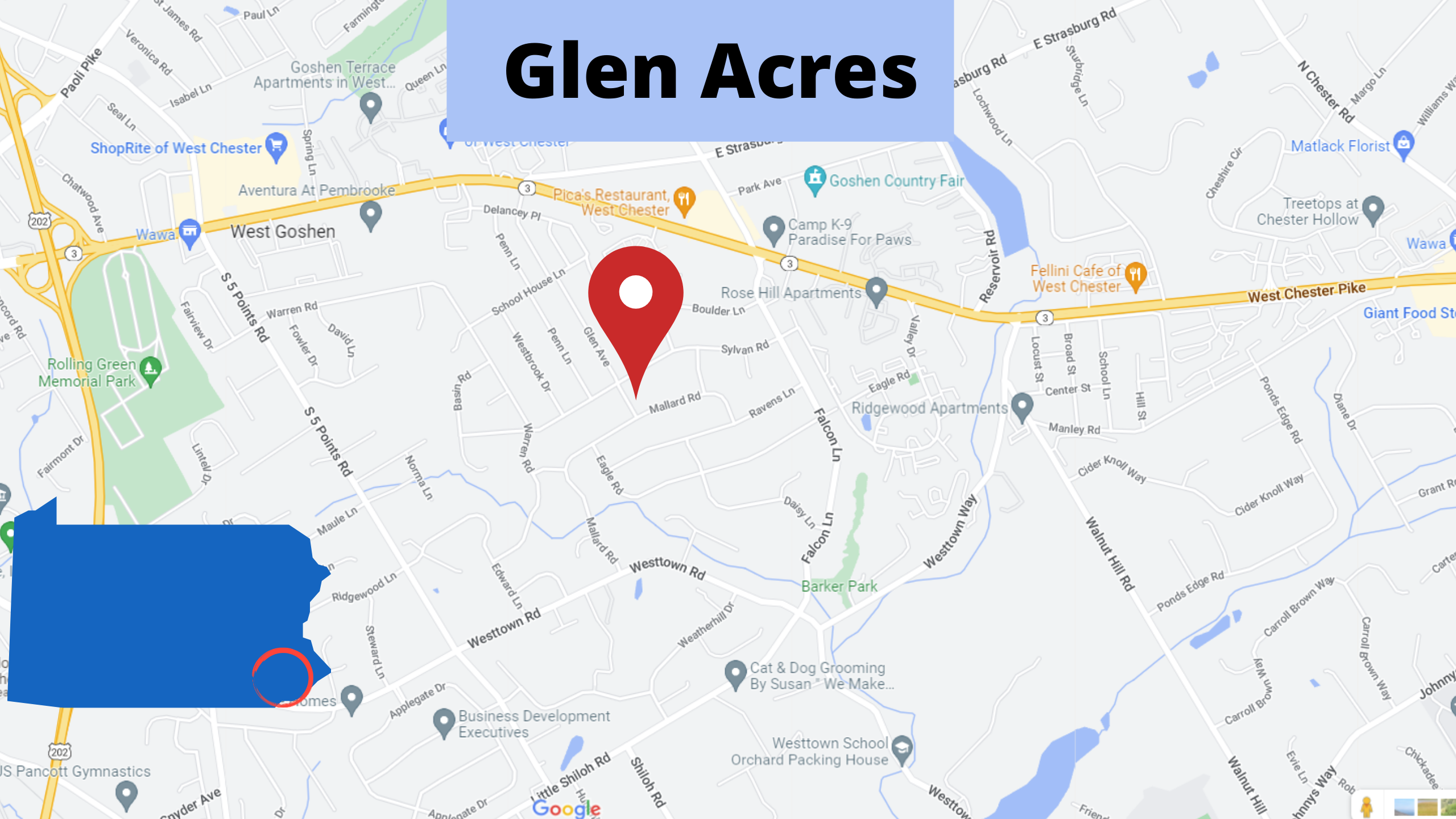 In Glen Acres, most of the homes have 3 bedrooms but you will find a few that have 4. Also, the houses here are built around the 1950's.
It's a really big neighborhood with a ton of houses that are fairly spaced apart. In the last six months, about 25 houses have sold in this neighborhood and they have ranged in price from the low 400s to mid 500s. Lately, prices have been sky rocketing.
Rob lives very close to this neighborhood, probably within two miles and has helped many clients buy here. He thinks it is an awesome neighborhood with an even better location.
If you're thinking about the taxes in this neighborhood let's talk about that. It's going to be about $4,800 and I think that's going to be fairly consistent. There's no HOA to worry about either. Square footage on the houses can range from the smaller side of 1800 square feet but a lot of them are in the 2,000 to 2,200 square feet range. Most of the houses are on about a quarter of an acre.
Another great thing about Glen Acres is you are located about 5 minutes from beautfiful downtown West Chester which has many resturants and stores.
If you're ever interested in checking out or selling a house in Glen Acres please feel free to reach out to me.