How to Buy a House in Pennsylvania
See the process of buying a home step by step!
Hey everyone, this is Rob Lawrence with Vanguard Realty Alliance LLC. Today I'm going to talk about the steps to buying a house in Pennsylvania.
Buying a home is super exciting! It's obviously a goal for a lot of people, and it really helps people build wealth. Owning real estate can be a big benefit when opposed to renting, so there's a lot of great things about buying. PA is a beautiful state, and I love it here. I live in West Chester, PA myself. Anyway, I'm going to take you through the steps as shown in the flow chart below.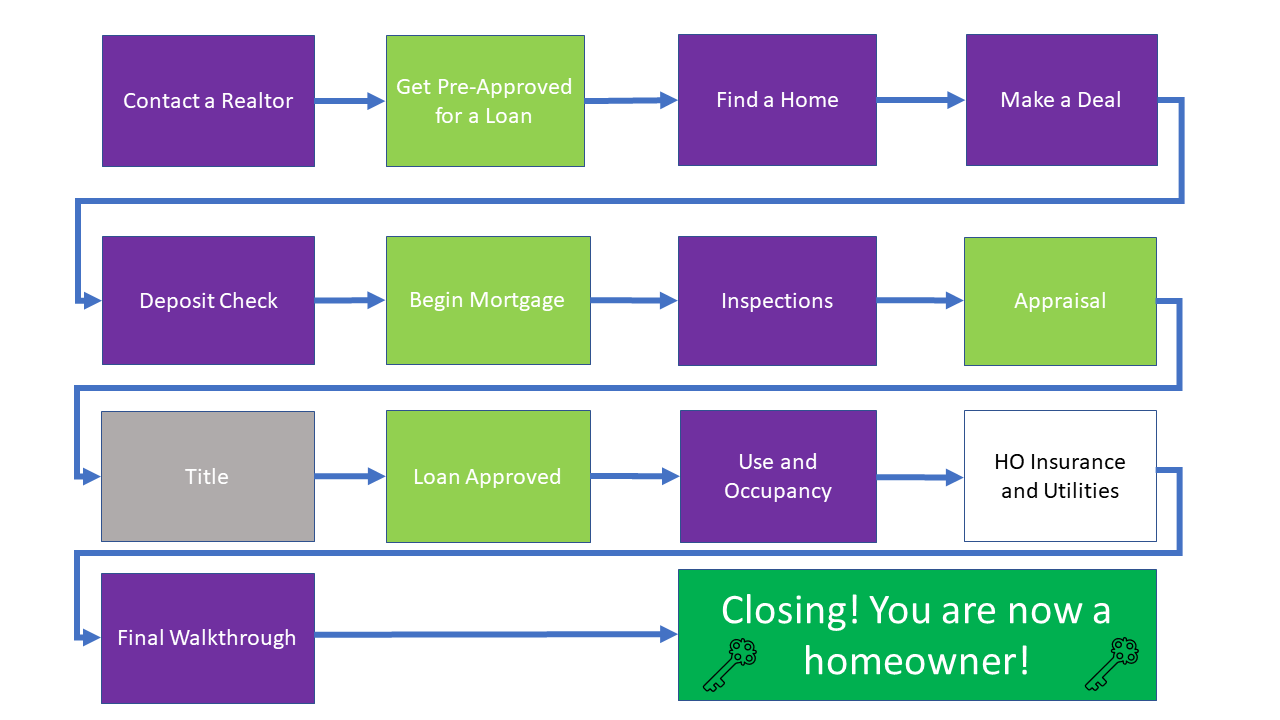 This is the flow chart we're going to use so you can see all the different steps involved. It's a little more complex than this believe it or not, but I'm going to run you through the basic milestones in the process so you can understand what you're going to go through from finding a realtor to the time that you've got the keys and you're moving in your couch.
If you are curious about first-time homebuyer programs, I have a good page on that here.
Okay, so let's talk about step one which is "contacting a realtor". There's a number of ways you can meet a realtor, obviously, you're meeting me right now, and I can introduce you to realtors if you need to outside of the areas I cover. I offer that as a free service. You can also just look at your friends and family, maybe some connections you may have, you can get connections online (google people, find people, etc).
Contact Me To Get The Home Buying Process Started
The first step in the process is contacting a realtor and they're going to be your advocate that's going to help you go through this flow chart.
The next step is getting pre-approved for a loan. This is a really important step in the process and I recommend working with a mortgage professional. I have a couple that I like to work with and really it's just about getting the job done having them be responsive.
The next step is finding a home. Right now, we have a tight inventory, so that's a little bit low, but your realtor should set up a search for you. You're probably going to be looking on your own on Zillow or other sites like mine, but you got to find a home and go and tour homes. That's a really big step in the process.
So you're going to look at houses, and then you're going to start going to houses and I always say it's a journey, so it's something that you've kind of got to go through, you've got to learn your market, learn what you like in a house, what you don't, once you find a house you like it's time to make a deal. So you're going to want to make a deal with the other side.
So basically, your Realtor is going to send over an offer package to the other side and there's a lot of different intricacies to making a deal right now, especially in a competitive buyer's market so it's not uncommon that there are multiple offers on houses. It's important that you really understand how to win competitive bids right now. After you've won the house, the next step is putting down your deposit check.
A deposit check is typically going to be between one percent and two percent of the price of the house. So if the house is three hundred thousand dollars I might put down a five thousand dollar deposit check for example. Bigger deposits make your offer stronger, smaller deposits make your offer weaker. The deposit check is typically refundable if you exit on inspections or mortgage or some other contingency in your contract. So after you've got your deposit checked down you've got usually five days to do that you're going to begin the mortgage application process in earnest.
So you've been pre-approved but now you've got to get fully approved. So from the time that you're making a deal, typically it's going to take about 40 days until you close and move in. One of the other things your realtor is going to do is schedule an inspector to do inspections on the home. This person is going to look through everything in the house that they can see, you know like; How old's a hot water heater? Is the HVAC working? Do the windows work? How old's the roof? Those kinds of things to protect you in the buying process.
Now a lot of times, right now in this competitive market, people are waving inspections. Obviously, I never blindly recommend you waive inspections since there's a risk associated with that, but sometimes you can mitigate the risk based on how old the house is. Maybe if you've walked through with an inspector prior to making an offer whatever it is, but they're going to typically do three inspections in Pennsylvania, which are going to be the general home inspection, termite and radon.
There's others as well that you can do but talk to your realtor about that. It is usually dependent on the property. After you go through the inspection period, and you've negotiated everything and you know either they've given you some money, fixed some things or just said "flat out we're not doing anything" and you decided to move forward, you're going to order appraisal.
So an appraisal is basically the bank saying "hey, I'm loaning a hundred thousand dollars on this house. Is this house worth a hundred thousand dollars?". And if it's not, I'm not going to loan that much because I'm not going to loan a hundred thousand dollars on a fifty thousand dollar house.
So appraisal is an important part of the process and again if that comes in low that's also another possible area for negotiations. At the same time, you're also going to be hiring a title agent and the title agent is going to make sure that the house is transferring to you free and clear of any liens, meaning like did they pay their taxes? Did they pay their water bill? Whatever it is the title agent is going to make sure that you're getting that title free and clear and if you want more information on that you can see my video and interview on title insurance with my colleague Doug.
You're going to get a final approval hopefully sometime before closing. So that's going to be getting all your docs together, you're getting all over them, the mortgage company is going to issue that commitment to basically give you the money at closing day. 'You're also going to get a use of occupancy (U&O) and that may happen before the appraisal before the title but sometime in this part of the process is typical.
Now, this can vary from area to area. Some townships don't do them. This is done to make sure that the house has smoke detectors, railings, and the house is safe to operate. Next, you're going to get homeowners insurance and switch over all the utilities or schedule all the utilities to be switched over to you at closing. Then lastly, you're going to do your final walk-through of the property to make sure they took all their furniture, they left me the washer dryer like they said they were going to and everything looks good. Then you're going to go to the closing table.
Yay, you're closing! So closing is obviously the best part of this whole process because now you have a house. You're going to typically sit down with the title agent and the title agent is going to go through all the documentation with you, sign everything, you're going to bring your id and you're going to bring a typically a certified check for whatever funds that you need to finally close on your home.
I hope you found that video helpful in understanding the process of buying a house in Pennsylvania in 2021. It's a crazy market out there but you can do it! If you are in the Philly suburbs like Delaware County, Chester County, Montgomery County, I'd be happy to help you.
If you'd like me to help you please feel free to reach out to me. My information is in the description down below in the video and I would love to kind of connect with you. If you have any general questions or if I can connect you with another realtor in another area of Pennsylvania.
Have a great day everybody! Go get that house! And feel free to contact me with any questions.